Posted: 2011-08-31
Category: News
I have a new exhibition coming up from 19th Sept - 11th Nov. It is at Ketchum Pleon, 35-41 Folgate Street, London, E1 6BX.
The Exhibition features images from three separate series "Anachronisms", "Incongruities" and "The Wick Wood" and is kindly supported by Ketchum Pleon.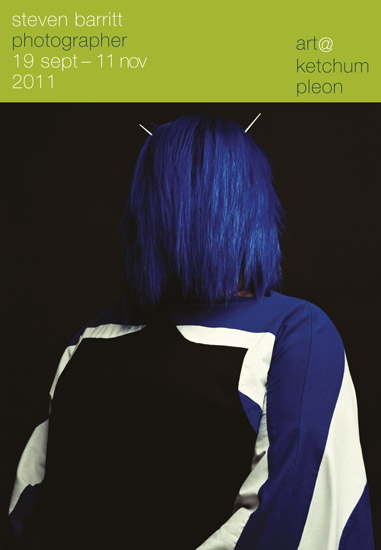 Here is the blurb from the exhibition flyer:
steven barritt
Ketchum Pleon, 35-41 Folgate Street, London E1 6BX
art@ketchum pleon presents human/nature which comprises a selection of
photographs from three stunning series.
Inspired by the paintings of Rembrandt and other old masters, the series 'Anachronisms' aims to explore the historical and contemporary relationship between painting and contemporary photography. Images from the series were selected for exhibition at the Photographers Gallery as part of their Fresh Faced and Wild Eyed competition, as well as being selected as finalists in the AOP student awards 2010. 'Philippos' from the series was also selected for exhibition as part of the National Portrait Gallery's 2009 Taylor Wessing Photographic Portrait Prize.
The series 'Incongruities' takes the aesthetic qualities and approach from the series 'Anachronisms' and applies it to the wonderfully eccentric world of fashion. It was originally commissioned for an exhibition at London fashion week 2010 by On|Off and was continued during the event held at Victoria House. Participating sitters include designers such as J Maskrey and Yang Du and characters such as Jodie Harsh and Jonny Woo.
The Wick Wood is an ongoing series of images of the Hackney area formally known as 'Wick Field' situated adjacent to the new Olympic park. Historically an expanse of marshland, following a period of development threats, the 12-hectare community woodland was planted with about 30,000 trees, as compensation for the M11 link road. As places of magic and mystery, peopled with spirits, dryads, nymphs and elves, woodlands have always been intertwined with narratives and story telling. Woodlands today still provide a setting for dark stories, clandestine meetings, trysts and youthful experimentation. The images are the result of Steven's personal exploration of the wood and reflect his interaction with the area as well as marking the traces of narrative left by others and hint at the stories left untold.
A graduate of Middlesex University (MA Photography Distinction 2010, and BA
Photography First Class Honours 2009), Steven lives in London.
Meet the artist 6 to 8pm Thursday 22nd September
stevenbarritt.com
---